Introduction
In-Stock / Cross Dock Window
Warehouse Instruction
Cross Dock Overview for Operation
Booking of a Warehouse Movement
Ex-Stock / Cross Dock Window
Cross Dock Module for Warehouse Staff
---
Introduction
The aim of SelExped Cross Dock is that operation can start warehouse movements to be fulfilled by warehouse staff who give feedback after fulfilling them.
SelExped Cross Dock has two major parts:
- SelExped Cross Dock window built into a module (provided by SelExped or others) used by operation where operators can start warehouse processes (in-stock, ex-stock)
- and a fully separated Cross Dock module for warehouse staff which can be launched from the main menu by warehouse staff but is not available for operation.
Data between the two parts are synchronized. If operation starts a warehouse movements warehouse staff sees it and feedback from warehouse staff is shown for operation.
---
In-Stock / Cross Dock Window
Here is an example of SelExped Cross Dock process starting with a module used by operation. On the top of the window you see your shipments (jobs):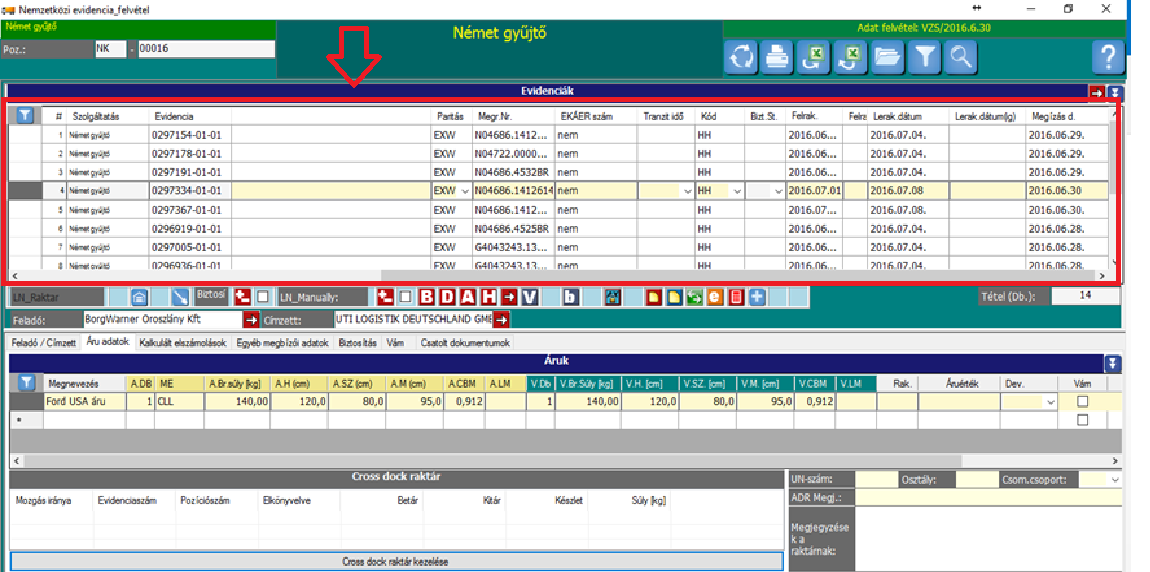 In the middle goods data belonging to the selected shipment (job):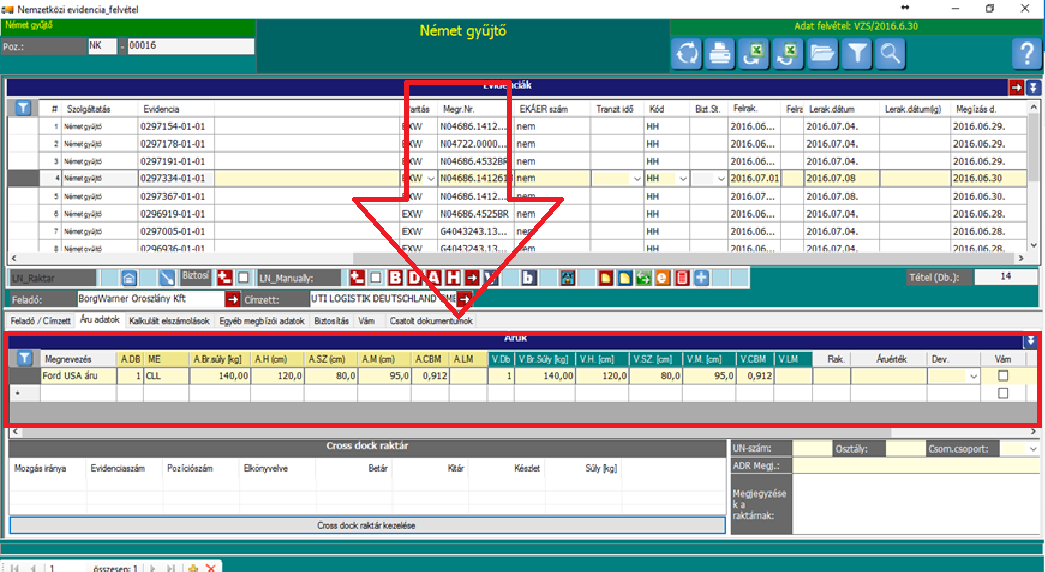 At the bottom there is a Cross Dock overview showing in-stock and ex-stock movements belonging to the shipment (there wasn't any yet):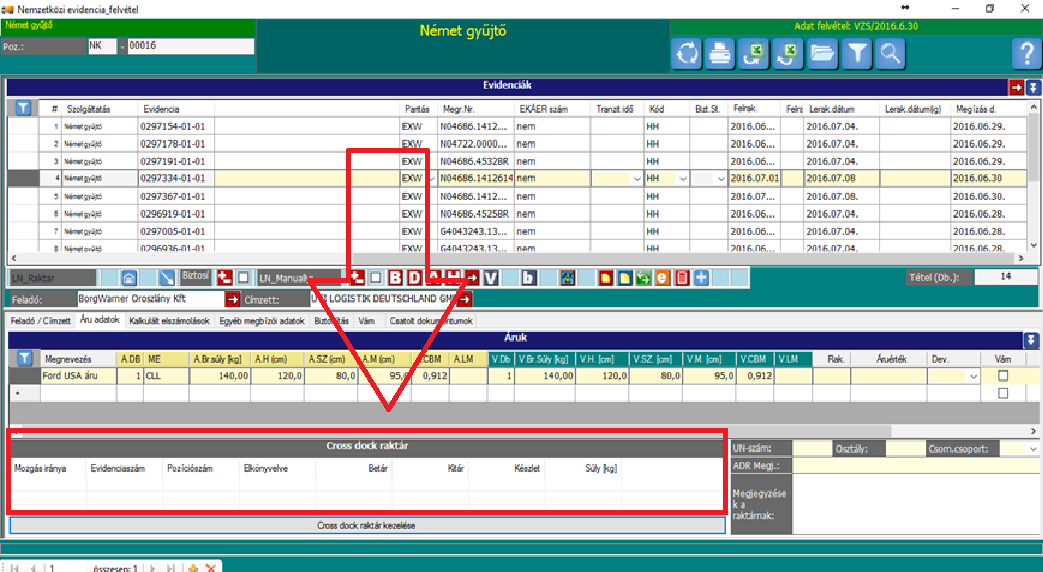 And finally, below the Cross Dock overview, there is the Cross Dock button itself: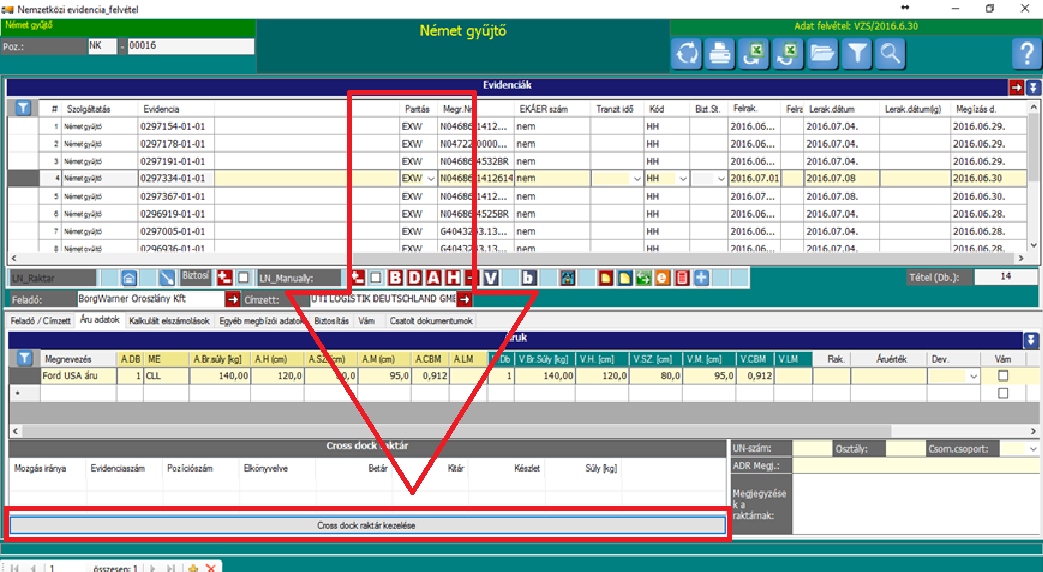 The Cross Dock button opens the Cross Dock window of the operation where in-stock can be done: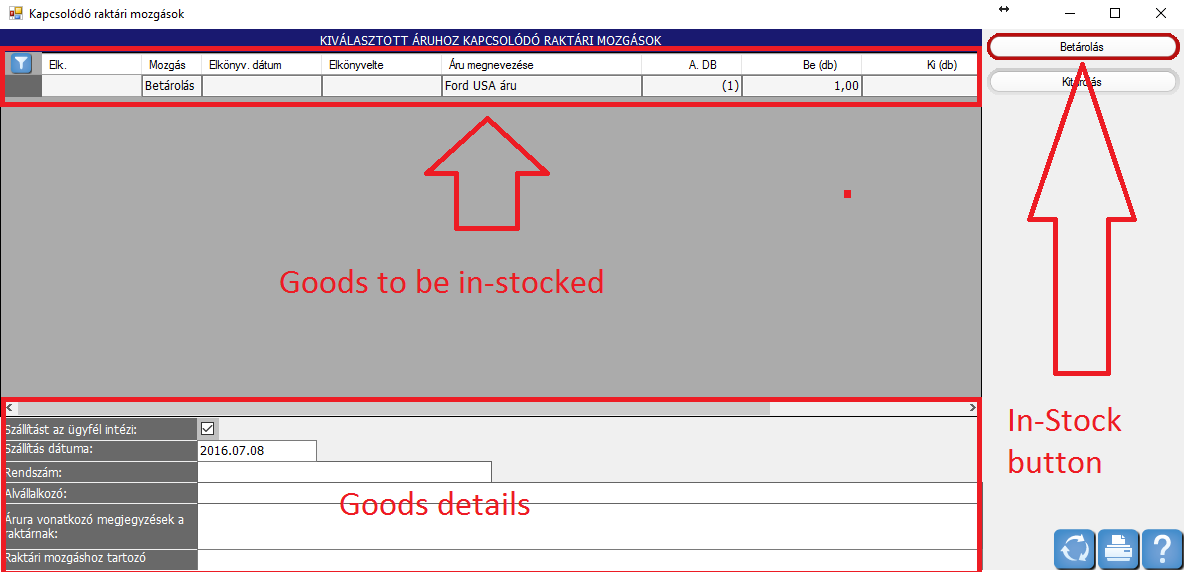 After in-stock Warehouse Instruction can be printed:

---
Warehouse Instruction
Warehouse Instruction is the document for operation for communication with the warehouse. Operation can send it in email for warehouse staff to inform them what plate number (truck) will arrive and when. Naturally warehouse staff also sees it in their own Cross Dock module (see later):

The aim of Warehouse Instruction is that warehouse staff knows exactly what a truck is bringing/taking away when it goes to the ramp. That is why Warehouse Instruction collects all movement belonging to a certain truck on a certain date (all in-stock and ex-stock).
---
Cross Dock Overview for Operation
While the Cross Dock window (see above) is where operation can start in-stock/ex-stock movement the Cross Dock overview is where they can check earlier entered cross dock movements without opening the window itself. In this example the cross dock window shows that there was a in-stock movement on this shipment. It also shows that there was no ex-stock yet and warehouse staff did not book the in-stock yet:

---
Booking of a Warehouse Movement
Warehouse staff not only have to fulfil warehouse movements ordered by operation but also have to give feedback on how they did it. Feedback is done by the booking of the movements. But If they want to book a movement they have to check goods and correct size and quantity of goods if they are different to the ones pre-entered by operation. If they find differences they have to enter them in their own Cross Dock module (see later). Than they can book the movement and after booking no one can modify goods data any more. It means that warehouse staff is responsible for the reality of goods data. The only exception is when warehouse staff is deleting a booking (see later).
---
Ex-Stock / Cross Dock Window
Ex-stock – just like in-stock – can be done (started) by operation in their Cross Dock window. They can ex-stock a part of the in-stock amount if they want and they can also ex-stock goods before warehouse staff has booked in-stock (to speed up operation).
---
Cross Dock Module for Warehouse Staff
Warehouse staff can reach their own Cross Dock module from a part of main menu which can not be reached by operation.
After launching Cross Dock module they see a filter window where they can filter from the warehouse movements started by operation: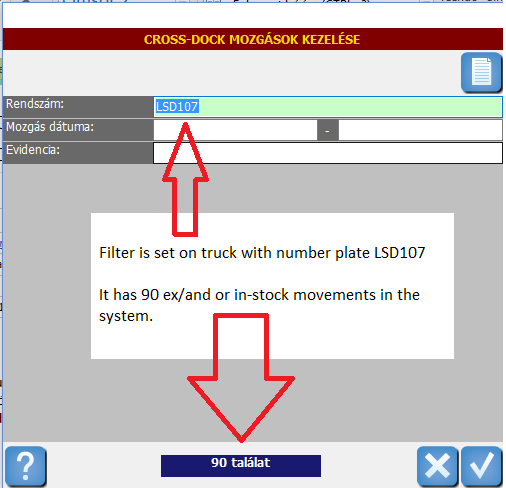 Than they can see their Cross Dock window which contains three major parts: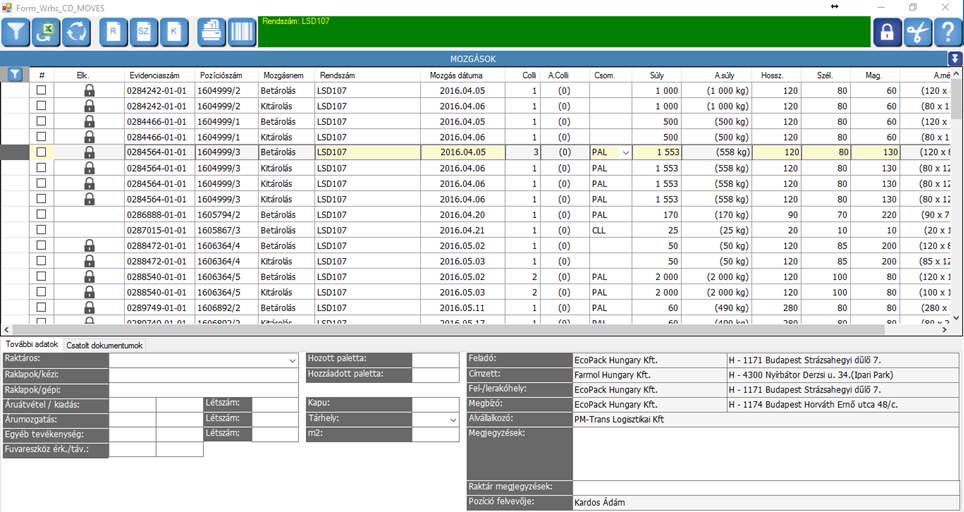 On the top there are buttons with following functionality:
-further filtering
-warehouse movements list in Excel
-data update
-they can also print Warehouse Instruction if they want (operation did not send it etc.)
-printing Delivery Note
-printing Warehouse Movement Report
-printing Stock List which can be sent for operators so they can check what they have in the warehouse currently (waiting to be ex-stocked)
Buttons on the right hand side:
-padlock the button to book a movement. Booking means locking it but padlock can be reopened for modification.
-scissors: this is the button to cut a movement in several parts if the movement was done in several parts in reality
-question mark: pop-up help in/out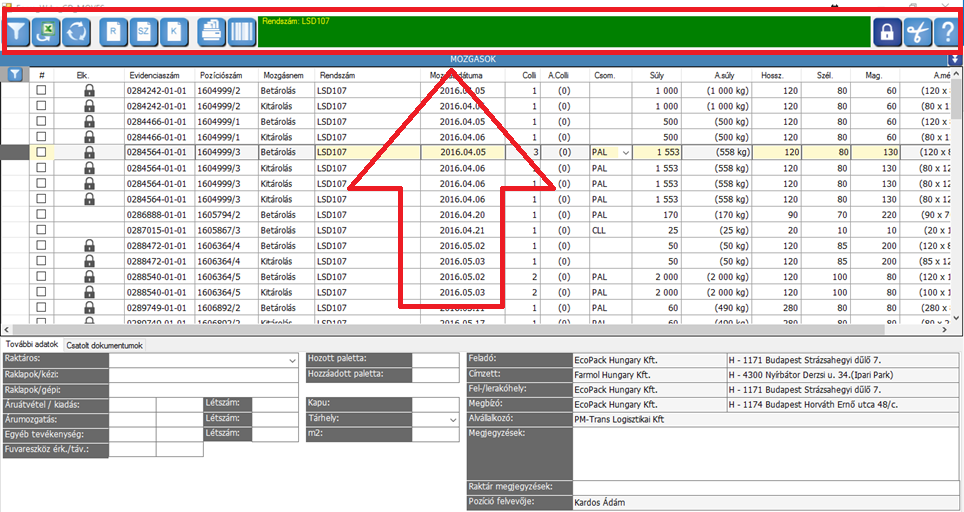 Middle part: here are all the movements listed started by the operation: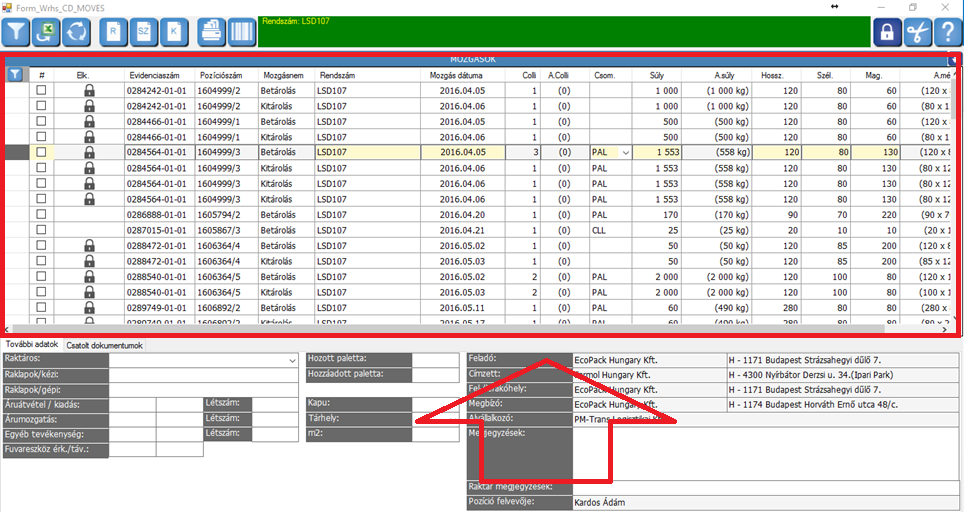 Bottom: details of a certain movement selected in the middle part: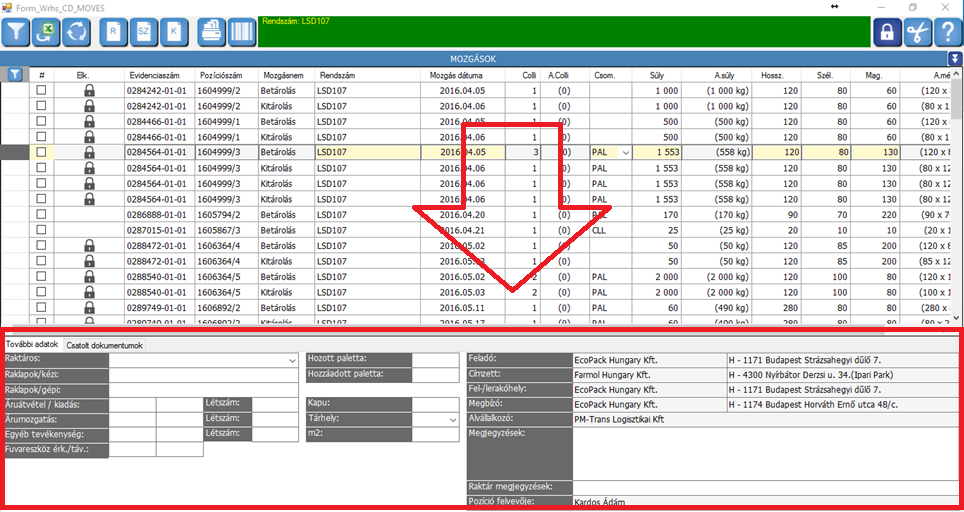 In the left hand side data can be entered by warehouse stuff (name of the person making the movement, time taking the movement etc.):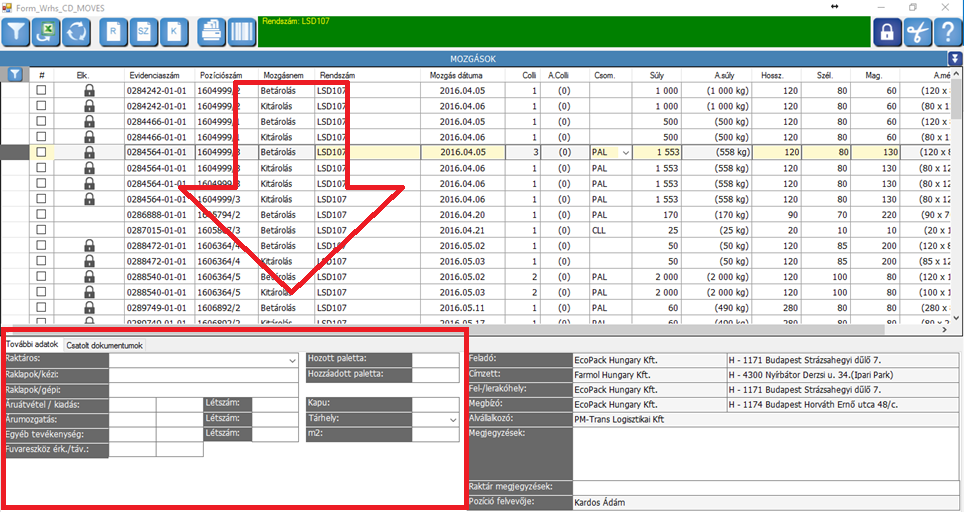 In the right hand side warehouse staff see data entered by operation belonging to the shipment: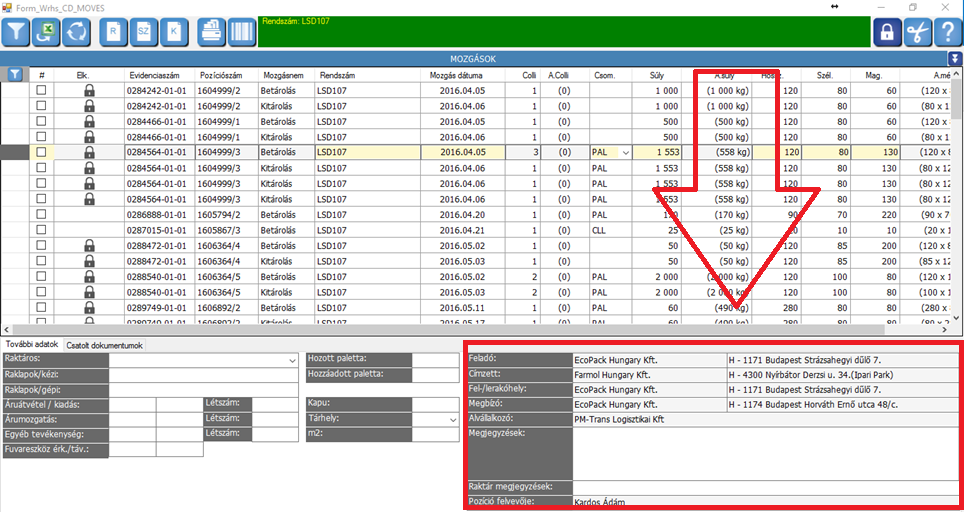 In the second window warehouse staff can attach documents (photos, scanned documents etc) to the movement belonging to it. It will be seen by operation: