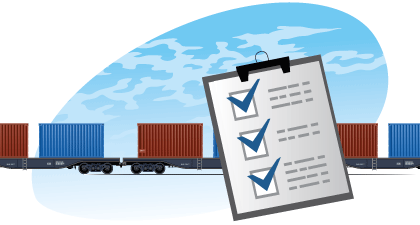 SelExped Rail Dispo
Planning tool for container trains with visual display Drag & drop containers on trains. Uncomplicated and cost-effective software for planning.
Description
The screen in SelExped Rail Dispo is divided in two and user can set the most relevant information they want to be displayed. In one of the two windows containers for transport can be displayed while in the other window the container trains under planning. If SelExped Container Depot is also activated containers stored in the depo can be displayed too and drag & dropped to trains.  
Small icons symbolizing different types of containers and trains enable fast and easy overview of the planning process. Containers can be assigned to trains by drag & drop. 

The planning process can be track by multiple user at the same time and everyone can do his/her task.